* Heavy duty full body protective case;
* Made from durable EVA which is soft and foamable.
* Easy to take, easy to install, easy to use.
* Shock-proof. Can be used by kids/children/toddlers/boys/girls.
* The handle can be rotated to become a kickstand.
* Compatible with Apple iPad 9.7" inch (a.k.a. iPad 5th generation, iPad5, released in Mar 2017. Wifi 3G and 4G LTE). Official website here: http://www.apple.com/au/ipad-9.7/
* Please note that this product has two versions: straight handle and curved handle. The style of shipped items will depend on our stock unless specific instruction is provided in order message. In most cases, straight-handle cases will be shipped. For Pink and Yellow, only curved handle version is available. See image here for the curved handle case.
If you didn't find the insertion slot at the back, please follow the numbers to install the iPad in order corner by corner.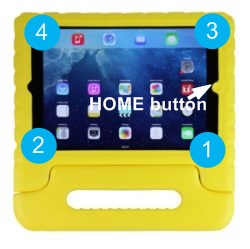 If you can see the insertion slot at the back, please follow below guide.
Please visit ** and *** for image disclaimer in the page footer.